Your motorcycle's battery should be able to get the engine started without weighing you down when you ride, brake, or accelerate. These are very important things to note in any battery you're going for, as it is the backbone of your motorcycle's performance.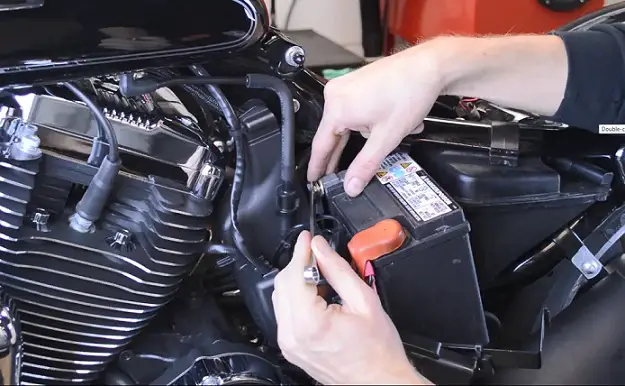 Best 500 CCA Motorcycle Batteries: Our Top Picks
Going for 500 CCA motorcycle batteries would mean that you require a bit more power than the average rider. While there are tons of options on the market, you have to be careful, so you don't end up with the wrong choice.
When shopping for a high-power motorcycle battery, you need to consider not just the price but also the build quality, service life, and cranking power delivery. There are also other important aspects to consider, such as discharge rate, vibration resistance, and weight.
In this post, we put together and reviewed three of the best 500 CCA  motorcycle batteries on the market – carefully handpicked based on the criteria mentioned above.
1. Throttlex MX20L – Motorcycle Battery (500+ CCA)
Throttlex MX20L factory activated premium AGM (Absorbed Glass Mat) type battery is designed to provide increased performance for riding enthusiasts. This battery is power-packed with a rugged build and an excellent service life that makes it a great choice for most riders. You will find the high amperage just enough even in cold weather.
The MX20L is engineered to cold-proof so it would perform just as great as it would in moderate weather. You get 500+ CCA and 18 A.H that should meet or exceed the specifications of your original battery. Its absorbed glass mat separators are protected by full-frame plates which provide boosted cranking amps for optimum starting power and extremely low discharge rates. This boosts the longevity of the battery.
The tough exterior, which features a thick plastic casing and heat-sealed lid, provides maximum protection against vibration and other elemental factors that could otherwise cause damage to the battery and shorten its lifespan.
Thanks to the AGM construction, you won't have to worry about spills or leaks with this battery. The electrolyte is designed to remain sealed or suspended and this not only makes the battery spill-proof but it also ensures that the battery won't freeze at sub-zero temperatures.
To ease the installation process, the battery has its terminals situated at the top and the side. This allows the MX20L to make for an easy and convenient fit for many motorcycle types.
You also get quality assurance when you purchase the product. It comes with a 30-Day Money-Back Guarantee and a 12-month free replacement warranty. This 500 CCA battery measures 6.86 in (L) x 3.44 in (W) x 6.13 in (H) which is pretty much standard, however, you might find that it is not as light as most options on the market.
The battery weighs 15 pounds and worse, it doesn't come with a carrying handle to ease transportation and installation. While this is a big minus, it isn't a dealbreaker considering the performance ratings of the battery.
Pros
Arrives fully charged and ready to install
12-month free replacement warranty
Will meet or exceed original battery specifications
Increased strength to withstand vibration
Cons
2. LiFePO4 500 CCA PowerSport Battery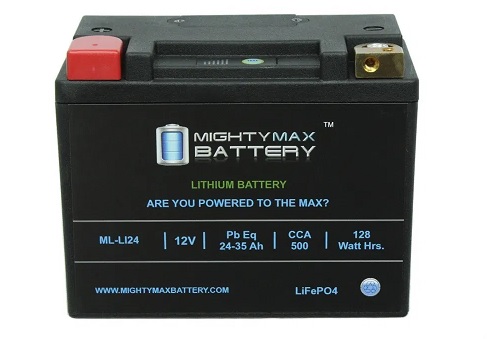 The term LiFePO4 refers to Mighty Lithium Iron Phosphate (LiFePO4), a line of Mighty Max batteries designed to replace AGM, Flooded, and Gel cell lead-acid batteries in applications such as motorcycles, personal watercraft, ATVs, lawnmowers, dirt bikes, and scooters.
As the name implies, this is a Lithium battery that has several advantages over AGM, Flooded, and Gel Cell battery-types. First, you've got the lightweight feature. This battery is incredibly lightweight weighing just 4.30 pounds which is 3x lighter than AGM batteries with the same CCA ratings and in the same category. You may find that it is 80% lighter than some lead-acid batteries, which means you can use it in multiple light sports applications and motorcycles.
Another notable perk is the depth of discharge. Unlike AGM batteries which are sensitive to deep discharges which could lower their lifespan, lithium batteries aren't really affected by the depth of discharges allowing you to use them for longer periods while providing a longer cycle life. This battery is design to provide 2,000+ Deep Cycles at 80 percent depth of discharge.
The Lithium-ion technology also ensures safety as you won't have to worry about dangerous acids spilling and causing harm to you and your vehicle. One issue you may encounter while installing comes from its compact size. This may be less than the seat dedicated in the motorbike which could cause the battery t to slide when installed. This product comes with foam spacers that will help you install it securely.
The LiFePO4 features a lead-acid replacement range of 24-35(AH) with a cold cranking amps rating of 500. It should deliver enough power for all your motorcycling needs. However, this battery is not the best when it comes to sustaining heat at high temperatures. This could lead to a drop in performance and lifespan, so if you live in areas where the weather can get incredibly hot, it could become an issue with consistent use.
Pros
Up to 80% lighter than lead-acid battery types
2000+ Deep Cycle at 80 percent depth of discharge
Includes foam spacers for easy installation
Lithium-Ion build
Cons
Very pricy (but worth the price)
3. Banshee 30L-BS 500CCA Motorcycle Battery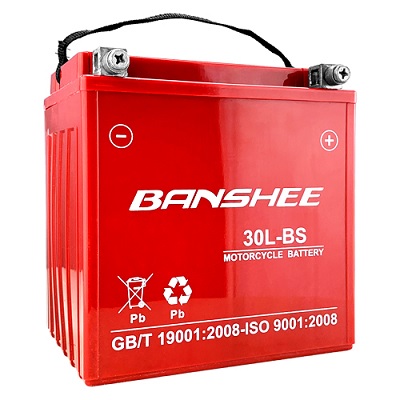 This 12V battery from Banshee is one of the best picks to go for if you're looking for an extremely affordable battery for your motorcycle. it offers a 4-year warranty along with maintenance-free use.
Banshee definitely puts a lot of time into the building of this battery which can be seen in the unique construction and sealing. This battery is an AGM-type so you shouldn't expect any issue in just a few years of use. The solid construction ensures that the battery is vibration-resistant and shields it from the harsh elements of the weather.
This battery features a liquid-free AGM design that will not spill or corrode. It is also designed with corrosion-resistant terminals to ensure you get maximum power at all times and spend less time on maintenance.
The AGM design provides less internal resistance which not only allows them to produce more discharge current but also recharges faster.   Even in cold weather, this battery will deliver all the power your bike needs as it is designed to work well within a wide temperature range.
This product comes with heavy-duty lead-calcium-alloy grids that provide increased performance and longer service life in many applications. You will also find that that the battery discharges itself slowly which allows you to store it for longer periods of time without recharging. This is also due to the lead-calcium grid alloy.
Its safe, low-pressure venting system is engineered to ensure maximum safety during use by releasing excess gas and resealing automatically in the event of an abnormal gas pressure buildup. This ensures that there is no excessive buildup of gas in the battery. Together with high recombination efficiency, this low-pressure venting system ensures that the battery is completely safe for use.
Pros
4-year warranty
Non-spill-able design
Long service life in both float and cyclic applications
Heavy-duty lead calcium-alloy grids for improved performance
Cons