Lithium batteries are considered a special battery type when it comes to motorcycle batteries. They are up to 70% lighter than the praised AGM brands, which make them a perfect option for a motorcycle rider looking to pull off impressive stunts with a powerful battery without comprising the handling of the bike.
You will find some options weighing less than 2 pounds but will offer the same CCA capacity as an AGM battery weighing 15 pounds. But aside from their light weights, lithium motorcycle batteries offer other benefits that place them well ahead of standard motorcycle batteries.
In this post, we'd be looking at the best lithium motorcycle batteries on the market.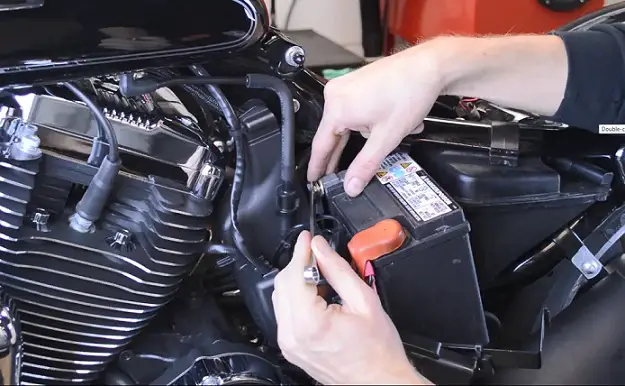 Best Lithium Motorcycle Batteries: Our Top Recommendations
Choosing the right lithium battery for your motorcycle can be quite challenging, considering that the market abounds with options from several different brands – with each screaming, "I'm the best!"
But to help you make the right buying decision, we hit the market and spent several hours comparing over 30 lithium battery models in terms of design, durability, performance, brand trust, and buyer reviews.
And after cutting out the low performers, we were left with these top recommendations that you shouldn't go wrong with.
1. MMG YTZ14S Z14S Lithium Ion Powersports Battery
Weight has always been touted as the best reason to buy a Lithium battery and the MMG YTZ14S Z14S Lithium Ion confirms that. This battery is designed to be 70% lighter than standard batteries, which include AGM, Gel, and Flooded-type batteries.
Lighter batteries are very important as lighter motorcycles are easier to handle. It's even more important if you're using your motorcycle to pull off stunts. You won't want the weight of the battery holding you down as you move. The MMG YTZ14S Z14S Lithium Ion weighs just 2 pounds so you won't feel the weight changing directions or maneuvering.
This product comes with a battery capacity indicator light feature which is a big bonus considering the battery type. Unlike lead-acid batteries, lithium batteries aren't well-equipped to handle deep discharging and they are less likely to recover in such situations. The battery capacity indicator light will display low/medium/full status all with the press of a button.
With this feature, you won't have to worry about the voltage dropping below the minimum threshold and in addition, you won't have to purchase or use extra tools to check the charge condition. The indicator does all the hard work saving you the stress.
This 12V Lithium-Ion battery is built using eco-friendly materials. It is a sealed type battery so you won't have to worry about spills or leaks. It is also devoid of acid and heavy metals like lead or calcium which you would find in AGM type batteries.
It is also maintenance-free. This battery can be stored up to 1 year before having to be recharged. You won't have to wait around too long when it comes to recharging as it features an incredibly fast recharge rate. Furthermore, it has a very long lifespan which is about 10 times what you would get with a standard AGM battery. It would run for over 2,000 charging cycles.
The MMG YTZ14S Z14S measures 6 x 4 x 5 inches. You should measure the dedicated space to check if it makes a perfect fit. If there is just a little space still left after installing the battery, you could use foam spacers to tighten it up and prevent it from slipping.
Pros
Lightweight (weighs less than 2 lbs.)
Won't require maintenance for almost a year
No acid or heavy metals included
Incredibly fast recharge rate
Cons
2. Antigravity Batteries AG-801 Lithium-Ion Battery
If you're shopping for an even lighter Lithium-Ion battery then you can hardly go wrong with the Antigravity AG-801 Battery. It is built to be ultra-lightweight making it a great pick if you're a professional racer, stuntman, or you just want your bike to feel lighter when you handle it, brake, and accelerate. This pick weighs just 1.5 lbs., which means you should be able to lift it with one hand.
The AG-801 is also very small measuring 4.25 x 2.25 x 3.75 inches, however, it is built to deliver extreme power for bikes in street use and race use.
This 8-cell lithium-ion Powersports battery features a tough exterior casing and premium build quality that should handle your motorcycling needs. It is built to be sturdy and durable with a large all-brass terminal design.
Whether your bike uses high-performance motors or you own a 1200cc race bike, the Antigravity AG-801 Battery would deliver just the right power. It would also function normally in 750cc bikes in case you're planning to purchase it for everyday use. It is rated 240 CCA with 9 AH.
The adhesive-backed foam allows for easy installation and coupled with the lightweight, you shouldn't have issues fixing this on your bike. The battery is design to be maintenance-free and long-lasting. It would hold a charge for up to a year as long as there are no accessories that draw power when your bike is off. This is just a maintenance tip. If you want the best here, you've got to unhook every alarm, iPod, GPS, or ECU hooked to the battery when you turn off the bike.
The Antigravity AG-801 Battery comes with a 3-year warranty. This gives you enough assurance of its quality. However, you won't have to worry about making a warranty claim too soon. Being a lithium battery, it won't leak like flooded types and it doesn't come with any harsh chemicals or compounds like some AGM batteries.
It is also fairly affordable. The word "fairly" refers to the fact that some batteries in the same category cost twice as less. However, they won't provide the same quality or power as this pick. This means you get a durable battery that is worth your money.
Pros
Built in the USA
Ultra-lightweight at 1.5 lbs
Delivers faster motor turnover and better starting
Unbreakable all-Brass terminal design
Cons
Hardly recovers from over-discharging
3. Battery Tender Lithium Motorcycle Battery
The Battery Tender Lithium Motorcycle Battery is a bit different from your average lithium-ion motorcycle battery. First, it features four terminals or quad terminals which make it more efficient than your standard lithium battery.
The quad terminals allow for installation efficiency. If you're looking to hook this to your bike but still want to be able to use it for other vehicles, the quad terminals will help you to position the battery correctly while ensuring 99% efficiency.
Next is the Smart Battery Management System (BMS) which is by far its most impressive feature. This works in the form of a built-in circuit board that will shut off the battery when it detects overcharging or discharging.
If you notice that your battery stops delivering power at a certain time, it might just be the BMS feature preventing permanent damage which may not be covered by your warranty. This would boost the lifespan of the battery as you would have to worry less about overcharging and completely draining the battery life during highly demanding applications.
The Battery Tender Lithium Motorcycle Battery is extremely small and very light. This 12V lithium battery weighs just 1.35 lbs and you won't find a handle for lifting it. In fact, you won't need a handle to lift it. It measures 4.5 x 2.8 x 3.4″ with a 2.5 Ah battery capacity.
The power delivery is top-notch with 150 CCA and 32WH. This is enough power for your street sport motorcycle, off-road motorcycle, or just about any motorcycle you want to install it on.  You will find an activation switch that will activate charging. This smart feature makes this battery easy to maintain.
The Battery Tender Lithium Motorcycle Battery is also built with safety in mind. It comes with a water-resistant casing which ensures that nothing gets inside the battery and damages its vital parts. The fire-retardant coating supports high current flow while ensuring that the battery doesn't go up in flames or get extremely hot.
Overall, this battery comes with the right size and weight for motorcycle applications. IT would boost fuel efficiency while providing long-lasting performance.
Pros
Reliably start your motorcycle
Smart built-in protection circuit board
Engineered to be safe
Water-resistant casing
Cons
4. Shorai LFX09L2-BS12 Lithium-Ion Powersports Battery
The Shorai LFX09L2-BS12 is even smaller but would still make a great fit for your street or touring bike. It weighs just 1.268 pounds but you may be surprised that it would replace bigger and heavier batteries that claim to feature thicker plates for efficient power delivery.
That's the big plus that comes with using Lithium batteries. They deliver all the power and none of the baggage which ensure that you can perform your tricks and stunts, maneuver, and handle the bike without being weighed down by a heavy power source.
The Shorai LFX09L2-BS12 is designed to deliver faster cranking for a better start. This battery is entirely safe and you won't have to worry about any explosive gases while charging. It will also recharge faster, however, you would have to watch the discharge rate.
While lithium-ion batteries discharge just fine, in most cases, you would have to check your battery to prevent it from deep discharging or over-discharging. Unlike AGM batteries, Lithium types are unable to recover from over draining. You would want to watch against that as you use this battery.
It measures 2.28 x 4.45 x 3.5 inches, so it is incredibly small so it might not be easy to install it in your battery box. But for that, the Shorai LFX09L2-BS12 comes with plenty of foam padding to ease the installation process.
You won't have to worry about the battery getting damaged due to high temperature. It comes with a reasonable temperature range, however, you should watch out for hot and cold climates. It should be fine in 30F to 110F temps.
Pros
Super-fast recharge rate
Faster cranking for better starts
Weighs one-fifth the weight of lead-acid battery types
Foam included to fill the gaps during installation
Cons
5. FirePower HJTX20HQ-FP – 12V Featherweight Lithium Battery
Lithium batteries are touted as one of the most expensive battery types to go for. While many praise them for specs, others complain of the hefty prices when compared to other battery types. The FirePower HJTX20HQ-FP is one option that differs.
This battery, despite coming with Lithium-Ion Polymer technology, wouldn't cost you more than AGM batteries in the same category. Fortunately, the lower price doesn't mean the battery is less reliable or efficient.
It is built with high-quality material to ensure it remains durable and tough even when used in demanding applications. The battery can be mounted in any position thanks to the Lithium-Ion technology. If safety is high on your radar as it should be, you will find that this battery doesn't come with any hazardous acid or heavy metals.
The FirePower HJTX20HQ-FP offers 6.0 AH and 380 CCA but surprisingly weighs just 3.30 lbs. This means you should get all the power you need in your motorcycle and you won't have to worry about any extra weight. Even more impressive is the fast recharge feature. This battery would go from 0 – 90% in just about 6 minutes of recharge.
In addition, the battery offers a long shelf life — thanks to the low self-discharge rate. This battery can be stored for up to 1 year before needing recharging. You should also get a long service life out of it. It would last up to 6x more cycle life than lead-acid batteries.
This battery measures 6.875 in (L) x 3.4375 in (W) x 5.125 in (H). It comes with black plastic mounting spacers that make installing it on your motorcycle a breeze.
While the Fire Power HJTX20HQ-FP is a great buy, it doesn't come with any smart feature that would alert you when you over-discharge the battery. While this is not a flaw, it would help you prolong the battery life. Still, you won't have to worry about going overboard with this battery thanks to its exceptional power delivery and a 2-year warranty for quality assurance.
Pros
6 to 12 times more cycle life than lead-acid batteries
Lacks hazardous acid nor heavy metals
50% to 70% lighter than other battery types
Mountable in almost any position
Cons
No smart feature to indicator over-discharge