If you're looking to buy a replacement for your 800 CCA battery, your best bet is to get a battery of a similar or slightly higher CCA rating.
We've put together a shortlist and reviews of the best 800 CCA batteries on the market. Our research team carefully selected these options based on their build technology, performance, brand reputation, and buyer reviews.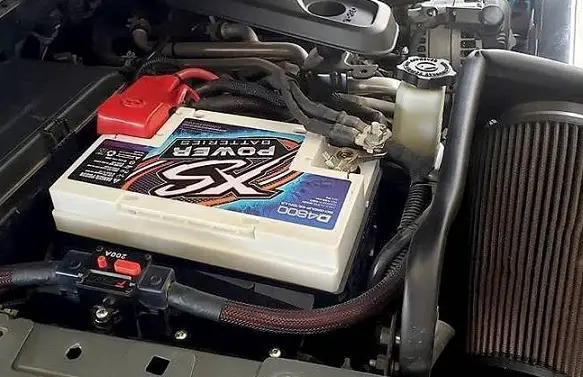 Best 800 CCA Batteries: Our Recommendations
| IMAGE | BATTERY NAME | CCA | PRICE |
| --- | --- | --- | --- |
| | Optima Batteries 8004-003 RedTop Battery | 800 | |
| | Delphi BU9094R AGM Battery | 800 | |
| | Northstar NSB-AGM24F Pure Lead Battery | 880 | |
1. Optima Batteries 8004-003 34/78 RedTop Starting Battery
The 8004-003 34/78 RedTop Starting Battery is one of the famous batteries from Optima. There are others in the series too – BlueTop and YellowTop. One of the first things that you should know about the RedTop is that it is not designed for excessive use. Nonetheless, it a great choice of a battery; let's tell you why.
First of all, it has a maintenance-free design. This implies that the user need not worry about changing the battery fluid. It also means that the battery is likely to have a longer lifespan than regular batteries. The 8004-003 34/78 RedTop Starting Battery is also spill-proof. This means that you need not worry about the mounting position or any spills.
Another interesting feature of this battery is that it is very resilient. It has about 15 times the vibration resistance that you will see in regular batteries. This is why the battery is designed for vehicles with very strong vibrations.
One thing that we love about this battery is the Cold Cranking Amps (CCA). It has one of the highest in its class. With 800 CCA, you are guaranteed that the battery will start your car in adverse weather conditions. Add this to the reserve capacity and you have a high-performance battery on your hands. This battery features a 100-minutes reserve capacity, meaning that the battery can power your car in most emergencies.
The battery has enough capacity to power extra electrical installations in your vehicle. It is super-reliable without any chances of power shortages. Installing this battery is one of the easiest tasks ever. It is ready to use out of the box, so you simply need to take it out and install it in your car. After this, you are good to go.
The battery comes with brackets that help to hold it in place. This also contributes to the durability of the facility. More than anything else, the battery gets praise for how long it lasts above other models.
Of course, it isn't all praise for this battery; nevertheless, the downsides are very few. One such downside is the price of the 8004-003 34/78 RedTop Starting Battery. It costs a lot more than other batteries in the same class. This is not to say that it is the most expensive in its class; there are others that are costlier.
When you look at what the 8004-003 34/78 RedTop Starting Battery brings to the table, it is worth the price. It is durable, has a sturdy design, has a very high vibration resistance, and has a high CCA rating. The downside seems to be the price, and that is relative to the user.
Pros
Great for extreme weather conditions
Easy and very quick to install
High vibration resistance
Very high reserve capacity
CCA is considerably high
Durable with sturdy construction
Cons
2. Delphi BU9094R MaxStart AGM Premium Automotive Battery
Delphi is undoubtedly one of the biggest battery manufacturing companies in the world. It has a reputation for producing top-quality OEM batteries. The BU9094R MaxStart AGM Premium Automotive Battery makes our list for several reasons.
A first look at this battery and the design captivates you. It is designed for quick installation, instant use, and constant movement. There are two handles, one on each side, that help the user to move the battery from one point to another. For some individuals, this is not needed but when you have to move the battery between two vehicles, it comes in handy.
What matters most in batteries is their performance. Thankfully, the BU9094R MaxStart AGM Premium Automotive Battery is designed for high performance. Just like the Optima RedTop above, it also delivers 800 CCA. This gives you the assurance of starting your vehicle in extreme weather conditions.
Along with this, the battery provides you with a reserve capacity of 140 minutes. As such, you have 140 minutes of power to guide you to the mechanic workshop during emergencies. Also, while the RedTop has a vibration resistance that is 15 times that of regular batteries, the Delphi MaxStart AGM battery has 20 times the usual resistance capacity. It means that your battery will still perform optimally regardless of the amount of vibration the vehicle presents.
The battery also features a spill-proof design to ensure that you don't deal with leakage problems. Along with this, the battery has fortified posts and welds as well as optimized component compression. Corrosion can be a huge turn off with batteries, but the good news is that the design of this battery protects it from any form of corrosion.
Conventional batteries take ages to recharge and if the battery runs out of power, you are in trouble. But the story is different with the BU9094R MaxStart AGM Premium Automotive Battery. It recharges very quickly, which is a huge plus to its already long life-cycle. The battery has sufficient power to handle extra electronics in your vehicle too.
Just like the Optima RedTop, this battery also has a few flaws. The major flaw is compatibility. It is not compatible with every vehicle. As such, it is imperative to first check whether the battery will work with your vehicle. To do this, speak to a professional to confirm the car models, years, and makes that the battery is compatible with.
Another challenge with this battery is that it may die without warning. It has a pretty short lifespan especially when you leave it without use for extended periods. Other than these, the BU9094R MaxStart AGM Premium Automotive Battery is great. It is very affordable and has a great design too.
Pros
Quick recharge
Very affordable
Leak and corrosion resistance
Absorbed mat technology design
High power output
Handles for easy mobility
Superior vibration resistance
Cons
May die prematurely
Compatibility issues
3. Northstar Pure Lead Automotive Group 24F Battery NSB-AGM24F
Just like Optima and Delphi, NorthStar is renowned for producing quality batteries. The NSB-AGM24F battery is recognized for being one of the best in its class. The question here is: what makes this battery tick?
Just like the other batteries on this list, the NSB-AGM24F comes with a unique design. It makes use of AGM technology, similar to what you find in the Delphi battery above. What this implies is that the battery is sealed all through with no risks of leaks. This ensures that the battery lasts longer than other conventional batteries.
AGM technology also means that this battery is maintenance-free. So you don't need to crack your head about filling in the electrolyte at any point during the battery's lifespan. The battery is also built to satisfy BCI standards since it is QEM fit.
As earlier stated, performance is at the core of the factors to consider when buying a battery. The NSB-AGM24F battery delivers a very high CCA of 840. This is not as high as what you have in the two batteries above. However, it is still great for temperate regions and will start your car in the coldest weather.
Another aspect of the performance that users must watch out for is the reserve capacity. You don't want to get stranded when your engine develops a fault in the middle of nowhere. This battery provides you with a reserve capacity of 115 minutes. This is lower than what you get with the Delphi battery above but it will still carry you a distance to safety.
Quick recharging is an important factor to be considered as well. Some batteries take a whole day to recharge when they are out of power. This is not so great when there are emergencies. But thankfully, the NSB-AGM24F takes half the time to charge fully.
Just like the Delphi battery above, this battery comes with a handle. This handle helps you to move the battery from one car to another quite easily. The good thing is that this battery is not as heavy as the Delphi battery, so one handle is perfect.
Another major advantage of this battery is that it is very compatible with many vehicles. Unlike the Delphi battery, you can use this battery for several cars. It is designed for high-performance vehicles so it will work well for large cars and trucks.
Just like the earlier two batteries on this list, it is not all praise for the NSB-AGM24F battery. After a few years of use, you may begin to experience charging problems with the battery. At this point, it is best to discard it and get another battery. Other than this, the battery is a quality purchase.
Pros
High CCA
AGM design
Weather-resistant design
Corrosion and spill-proof
Quick recharge
Cons
Generates charging issues after a few years