If your car battery requires a 900 CCA (cold-cranking amps) battery, chances are you're driving a heavy-duty vehicle, or you live in a region with extremely cold temperatures. Whichever is the case, avoid the mistake of skimping on the CCA requirement when looking to buy a replacement battery. So, your best bet is to buy a new battery rated 900 CCA or slightly higher or lower.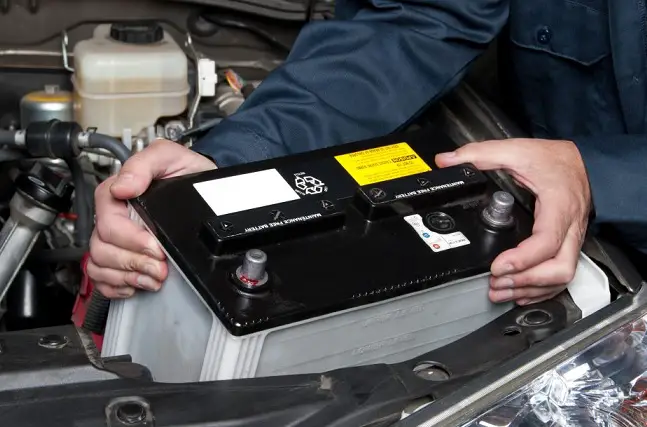 In this post, we've put together and reviewed a few of the best 900 CCA batteries on the market – carefully selected based on durability, performance, build technology, and buyer reviews.
3 Best 900 CCA Batteries
| IMAGE | BATTERY NAME | CCA | PRICE |
| --- | --- | --- | --- |
| | Northstar AGM NSB-AGM-27M Battery | 930 | |
| | Northstar ELT-AGM31 AGM Pure Lead Battery | 925 | |
| N/A | Northstar NSB-AGM34 Pure Lead Battery | 880 | |
1. Northstar AGM Engine Start NSB-AGM-27M Battery
Northstar is one of the biggest manufacturers of batteries in the world. They are known for producing top-quality batteries with a very long lifespan. The NSB-AGM-27M battery presents several features that put it on our list.
One factor that you cannot neglect when buying batteries is the design. This battery comes with an AGM design that provides several benefits. The AGM design means that the battery is completely sealed with no risks of leakages on any side. As such, you can mount it in any position you want without spills or leaks occurring.
Another advantage of this design is that the battery will not require any form of maintenance. Since the battery is spill-proof, the electrolyte remains in the battery all through its lifetime. The AGM design also implies that the battery has a very high vibration resistance. You can expect between 15 to 20 times the vibration resistance you get from traditional batteries.
The performance of the NSB-AGM-27M battery from Northstar is top-notch. One look at the battery and you will see it is reliable. The battery is quite large and is designed to meet the high capacity demands of large vehicles. You can use it for a variety of trucks, RVs, and other large vehicles too.
The cold-cranking amps of a battery are very important since it determines how efficient the battery performs in cold regions. This battery presents you with 930 CCA. Though this isn't as much as you will get from some of the batteries in the same class, it is still sufficient. You are assured that the battery will get your vehicle running with a single start in extreme weather conditions.
Asides from the CCA, it is also important that the battery features a high cranking amps level. With this battery, you get 1080 CA which is sufficient to power the electrical needs of your vehicle. It doesn't matter if you have extra electronics inside the vehicle; you shouldn't have any worries because the NSB-AGM-27M battery is up to the task.
The reserve capacity of a battery is always a cause of concern – especially for heavy-duty batteries. But this battery comes with a reserve capacity of 195 minutes – which is one of the highest of the batteries in this class. With this, you are assured that you can get yourself out of emergencies even if your engine has issues.
The size of this battery means that it is compatible with a number of vehicles. One challenge is that it is very heavy, so moving it around might be quite difficult. To deal with this issue, Northstar has added an ergonomic handle to the design. This turns the tide and makes the battery quite portable.
Lest we forget, this battery is made from pure lead. What this implies is that it will last longer than regular batteries. It also means that it wouldn't degrade very quickly even under hot temperatures. One of the things that we love most about this battery is that you can always leave it unused for a long period of time without any issues. When you need it; simply pick it up, install it, and you are good to go.
Pros
Compatible with many vehicle models
Strong and reliable
Long shelf-life
Spill and corrosion-proof
High vibration resistance
Very high reserve capacity
Cons
It isn't environmentally friendly
2. Northstar ELT-AGM31 AGM Pure Lead Group 31 Battery
Northstar battery is one of the most reputable and top-performing batteries in the auto world. The NorthStar ELT-AGM31 battery is highly reliable and remains a favorite of heavy-vehicle users. But there are a few things of interest to learn about this top-notch battery.
The ELT-AGM31 battery brand is the first of a new line of batteries from Northstar that meets the economic needs of users. While this battery is very affordable, the company did not sacrifice quality or performance in its production. The battery delivers an amazing mix of cold cranking ratings, cycling abilities, and reserve capacity.
One look at this battery and you can tell that it packs a lot of power. It also features the AGM design, just like the 27M battery above. As such, there are no spills with this battery, regardless of the position that you mount it. It doesn't require maintenance all through its lifecycle as well. While the battery seems to be quite large – weighing 75 pounds, there is a handle that makes it easy to move around.
The two terminals are made of pure lead and are properly coated so there is no chance of corrosion. The battery presents you with cold-cranking amps of 925. As you can tell, this is slightly lower than the 27M battery above. However, it doesn't affect this battery's capacity to perform optimally under extreme temperature conditions. You can bet that it will get your vehicle running with just one start no matter how bad weather conditions are.
The reserve capacity of the Northstar ELT-AGM31 battery is also slightly lower than what you get from the 27M battery. Again, it is just a five-minute difference and hardly affects the capacity of the battery. One thing is sure; you will have enough time to wriggle your car out of emergencies with this battery.
This battery has the capacity to deliver power at the highest level consistently. No doubt, this should be good news if you own a large vehicle that requires such abilities from a battery. The design of this battery makes it compatible with a variety of vehicles. We cannot talk about this battery without mentioning the fact that it is a creation for the future.
The ELT-AGM31 is Northstar's way of meeting the power needs of large vehicles at a very affordable price. It has a 3-year warranty so you can be sure of its durability. However, it isn't all praise for this battery. It is designed using pure lead; this is great for the battery, but it isn't so friendly with the environment. Nonetheless, the Northstar ELT-AGM31 battery is worth the investment.
Pros
Ergonomic handle
Corrosion-resistant
High vibration resistance
High reserve capacity
AGM design
Cons
Considerably heavy
Not environmentally friendly
3. Northstar Pure Lead Automotive Group 34 Battery NSB-AGM34
Of all the batteries on this list, this seems to be the least powerful. Don't get us wrong; it doesn't mean that this battery is sub-standard. It just means that it is designed for vehicles with lesser electricity demands.
Let's begin with the good reasons why this battery makes our list. The NSB-AGM34 battery from Northstar comes with the AGM design. All the other batteries on this list and many other batteries on the market feature this design. With the AGM design, you can rest assured that you wouldn't need to lift a finger to maintain this battery. It also means that you will be using the battery for a longer time than what you can expect from traditional batteries.
The battery is completely sealed so there is no chance of spills or leakages all through its lifespan. You can mount it in a variety of positions without bothering with leaks. One thing we like about this battery is that it is not as large or heavy as the other batteries on this list. Because of this, it is the most portable and versatile on our list. You can use it in more vehicles than the other two batteries reviewed earlier in this list.
Now, let's discuss the performance of this battery. Already, you know that this battery doesn't have the capacity of the two batteries above. As such, you shouldn't have very high expectations. However, it is a great battery in its own right and will do well when compared to many other batteries in the same class.
The NSB-AGM34 battery from Northstar comes with a reserve capacity of 134 minutes. While this is a far cry from what the other batteries deliver, it is still very high. With 134 minutes of power on your hands, you still have sufficient time to get to your mechanic when there's an emergency.
This battery also delivers cold-cranking amps of 880. Again, this is way lower than what the other batteries on this list provide. Nevertheless, it is powerful enough to crank up your engine even in very cold temperatures. One of the advantages of this is that the battery is more suitable than the other two batteries for warmer climes.
Where this battery measures up to the rest is the cranking amps. It delivers cranking amps of 1050. This is similar to the other batteries on our list and shows how efficient this battery is. You can leave it for a long period of time and still get high performance when you install it. The terminals of this battery are properly coated to ensure that they don't give in to corrosion.
Overall, the NSB-AGM34 battery from Northstar has a very solid build. It is designed for a variety of vehicles and delivers very high-performance.
Pros
Light and portable
Sturdy build
Vibration and corrosion-resistance
Spill-proof
Very affordable
Environmentally friendly
Cons
Takes a long time to charge