Only a few things can be more frustrating than having your fishing day truncated by a dead trolling motor battery. To avoid this, you need to invest in a top-quality marine battery for your trolling motor. In this post, we'd be looking at some of the longest-lasting trolling motor batteries on the market.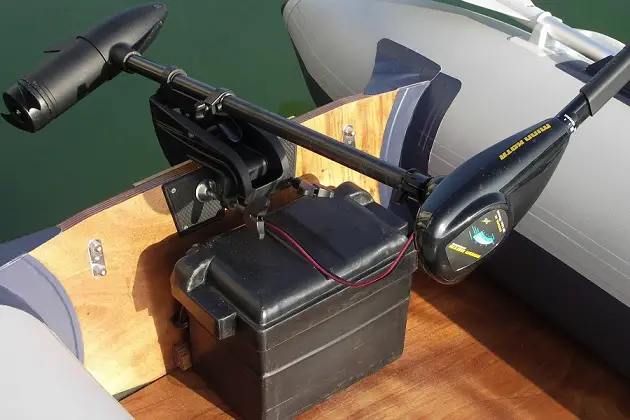 Longest Lasting Trolling Motor Batteries: Our Top 7 Picks
The market abounds with marine batteries of varying specs and by several different brands, and making the right choice from the pack can be a really difficult task.
But we've done all the hard work for you. We've hit the market to compare several marine batteries in terms of durability, performance, other specs, buyer reviews, and brand trust. And after several hours of thorough comparative research, we were able to figure out those that hold charge for the longest periods and that last for years before dying out completely.
And here are our top recommendations.
1. Weize 12V 100AH Deep Cycle AGM LFP 12100
Weize LFP 12100 is a highly rated battery that is known for its ability to provide power for quite a long time between discharge cycles. There are many reasons to invest in this battery.
For starters, the manufacturer optimized the design of this model to make it more efficient in the storage of DC power. An additional perk of the optimization is that you get a stronger performance than what other batteries with the same capacity offer. In other words, you can expect more power longer than standard batteries because it can be nearly discharged.
Additionally, the Weize LFP 12100 stands out in terms of the ability to recover from a state of deep discharge. Some deep cycle batteries struggle to recharge properly when they reach a certain level of discharge state but this problem is almost non-existent on the LFP 12100.
While the LFP 12100 delivers long-lasting performance, you will have to make sure that you charge it fully always to avoid a chemical reset that prevents it from fully charging in the future. Also, it is recommended to avoid instances of extremely deep discharges over and over again as this may cause the same issue.
Although the battery boasts a compact design, it still heavy and you may need to flex your arm muscles to move them around. The LFP 12100 comes with a 30-day refund policy attached to a 1-year warranty, so you can expect Weize to stand behind their product.
Pros
Ability to deeply discharge it
Capable of recovering from deep discharge
Heavy duty
Long service life
Cons
2. Universal power group 12V 100Ah Replacement Battery UB12100
The Universal UB12100 is an excellent trolling motor battery in that it brings all the advantages of this type of power supply. It is a top-rated 12V battery and is known for its best performance and heavy-duty materials.
The UB12100 sports a thick plastic body, which is able to withstand abuse and equally serve as a protective layer against extreme weather conditions. Its internal construction is designed using AGM technology that is known for storing energy well and for maintenance-free deep-cycle discharging.
Other perks that come with using the AGM design are that the battery is leak-proof, dissipates power much less on average than wet-cell batteries and the charging process is faster. It holds charge well over long periods of time as the discharge rate is less than 3 percent per month along with operating temperatures range of 5°F to 113°F.
Due to its individual stainless cell that is reinforced, you get plenty of flexibility, allowing you to mount it in any position. It features a 100-amp hour rating, which is truly long-lasting and impressive.
Universal Batteries are generally of high quality and the expected lifespan is between 3 and 5 years. But if you're unsure of the durability and reliability of this battery, keep in mind that it is backed by a 30-day refund policy and one year warranty. If the UB121000 fits your needs, consider it your next trolling motor battery.
Pros
Strong construction
Reliable power supply
Cons
3. VMAX MR137-120 AGM Sealed Marine Battery
When it comes to the best trolling motor batteries with the longest-lasting performance, very few batteries come close to the VMAX MR137-120. Manufactured by VMAXTANKS, one of the most reliable brands, this AGM battery has an advanced electrolyte suspension system, allowing it to be mounted in any position.
Moving further with its construction, the heavy-duty lead, and tin alloy means that this battery can withstand tough use. On the inside, the unique physical and chemical structure of the plates allows for longevity and reliability. Due to its design that requires virtually no maintenance, you can use this battery for several months without having to worry about checking the electrolyte/water level constantly.
This 12-volt battery has a maximum storage capacity of 120Ah. Like other batteries on the list, this model can recover from deep discharges with ease, a feat that's quite impressive. According to the manufacturer, this battery has a float lifespan of 8-10 years, which is also very impressive.
Because of its dimensions measuring 12.17 x 6.61 x 9.16 inches and its weight of 93 lbs., the MR137-120 is best suited for 50-110 pounds boats including Minn Kota, Newport Vessels, Cobra, Sevylor, and other similar trolling motors. It's also important to note that the capabilities of this battery won't deteriorate even if you deep discharge it repeatedly.
Should you purchase this battery and feel unsatisfied with its performance, you can leverage the 30 days money-back guarantee. Plus, the battery is backed by 1 year of solid warranty.
Pros
Long reserve capacity
Durable
Long float lifespan
Cons
4. Interstate Batteries 12V 75AH SLA/AGM DCM0075
If you're still on the quest for a pocket-friendly trolling motor battery, then the DCM0075 from Interstate Batteries is another great option to consider. It is one of the many popular batteries from Interstate, a brand that's grown to be synonymous with reliability and low maintenance.
The DCM0075 is a pure, non-alloy lead design with some of the most advanced technology included. For instance, it is outfitted with the AGM technology and that suggests that it will handle vibrations and keep all the components safe.  There's also the VRLA (valve-regulated) technology which helps to eliminate spills. The terminals are designed to resist corrosion well while also eliminating overpressure and speeding up the charging process.
Even when stored for long periods of time in adverse weather conditions, the battery turns right over when. And when you need it for your trolling motor, it doesn't disappoint as it can deliver up to 4-5 hours of active usage, depending on your speed settings. Depth of discharge is between 50 percent & 80 percent, and it recharges quickly as soon as possible.
In addition to its compact size and modest weight, the DCM0075 is easy to carry, thanks to the handles attached to it, which you can remove whenever you want. The only downside is that the battery is a little difficult to install as it does not come with threaded posts.
The price is also a cause of concern but you get what you pay for. The Interstate DCM0075 comes with a 1-year warranty but you can expect a good few years of use.
Pros
Quick recharge
Versatile battery
Portable
Cons
No threaded posts, uses nuts
5. Weize 12V 75Ah Deep Cycle Battery FP 12750
The Weize 12V 75Ah might have a smaller capacity than other batteries on the list but it is a reliable battery that meets the highest quality standards, thus assuring you of superior performance, increased durability, and performance.
Like other batteries on the list, this battery comes with AGM technology with a valve regulated design that can be used in enclosed and indoor environments without leaking or maintenance, providing superior performance. This means you will be using the battery for a very long time.
While its lower capacity might seem like a disadvantage, it is actually an attraction in that the battery is lighter and smaller than its rivals, making it easier to store and transport off-grid. Plus, the smaller size and lower capacity translate to more affordable pricing, and it delivers long-lasting power when you need it more than some of the 100Ah options on the market.
Furthermore, the internal construction of the battery comprises a calcium-alloy grid that allows for optimum performance and power delivery while also enabling the battery to recharge easily. Unlike some batteries that have troubles recovering after deep discharge, the Weize FP 12750 has no troubles recharging to full capacity.
And because this battery has a low self-discharge rate, you can use it as an alternative source of power during camping trips as well. Like other batteries from Weize, the FP 12750 comes with a 30-day refund policy and 1-year warranty.
Pros
Heavy-duty battery
Versatile battery
Low self-discharge rate
Cons
Lesser power than its sibling on the list
6. Optima Batteries 8050-160 D31T
The Optima 8050-160 D31T YellowTop battery is a high performance, dual-purpose power source. It is great for applications requiring repetitive amperage drain and quick recharging –like trucks with winches, commercial or public safety fleets, and vehicles loaded with power-hungry electronics and accessories.
Like every other Optima battery, the OPT 8050-160 D31T features a series of individual spiral-wound cells comprised of two virgin lead plates. This unique SpiralCell design provides a strong and clean power source, ensuring the safety of you, your family, and the environment.
Because of the AGM technology, this battery is far more resistant to vibrations than standard batteries without leakage or spillage. Its sealed design means that you can mount it in almost any position while getting the same premium ignition starts with the sustained high power levels even when the system exceeds the alternator output.
Going further, the OPT 8050-160 D31T can deliver 900 CCA, which means you can power up the motor even in extreme weather while the reserve capacity stands at 155 minutes for constant performance. It offers more than 300 discharge/recharge cycles and can last up to 3X longer than standard batteries.
It is ideal for seasonal use because of its low self-discharge rate so you can store your seasonal vehicles all winter without regular charging and still go on using it when the cold weather is no more. This Optima battery comes with a 2-year warranty.
Pros
Supports fast charging
Can be used in low temperatures
Slow discharge
Cons
7. Mighty Max 12V 55Ah ML55-12
Still looking for a battery that will keep you busy on the water for a considerable amount of time? Check out the ML55-12, which is a Sealed Lead Acid (SLA) battery. It is a top-rated deep cycle marine battery for kayak trolling motors.
Like other batteries from the brand, the ML55-12 is an AGM battery and thus requires zero maintenance. Because it is leak-proof and spill-proof, you can mount it in a variety of positions while its outer solid plastic case keeps the battery protected in extreme marine conditions.
Unlike most long-lasting trolling motors on the market, the ML55-12 is lightweight at just 23.15 pounds and it comes with a carry handle to make it easy for you to transport it around. It is shock and vibration-resistant.
Furthermore, the battery has a low self-discharge rate so you can leave it without use for some time. it also promises plenty of power when you need it with long service life. To be precise, this battery can do 400 cycles with 75 percent discharge or 600 cycles with a 60 percent discharge rate. With an operating temperature range of 15F and 110F, the ML55-12 won't fail you regardless of the weather.
Boasting a 35Ah-rating, the ML55-12 can power a trolling motor mounted on a kayak and can keep the trolling motor running for hours. It doesn't just perform well but also maintains optimal performance in low and high temperatures.
Mighty Max provides 30 days full refund policy and a 1-year warranty.
Pros
Small and compact
Long run time
Superior performance
Lightweight
Cons
Overcharging may affect its performance
Frequently Asked Questions (FAQs) about Trolling Motor Batteries
Here are some of the FAQs we frequently get asked about trolling motor batteries:
What size battery do I need?
Different trolling motors require different batteries, so your trolling motor will determine what size battery you need. Make sure that that the dimensions of the battery are a match with that of the original battery that needs replacement.
How long should trolling motor batteries last?
This largely depends on the type of battery and how well you care for it. AGM batteries generally have a longer life expectancy than wet cell batteries, with their lifespan anywhere between 2-4 years. Since the batteries don't require maintenance, what determines how long your battery will last is how you store it and/or how you use it.
How often should I charge a trolling motor battery?
For the purpose of longevity, a trolling motor battery should always be charged immediately after use. It is also recommended not to let the battery drop below 50 percent as this may affect its lifespan and overall performance.