When changing your car battery, your best bet is to buy a replacement whose group size matches that of the old one. This way, you'd get a replacement that perfectly fits in your battery tray and efficiently powers your car and its battery-dependent features.
But there are times when you just can't find a replacement battery with the same group size as your old one. For example, getting a group 58 replacement battery can be challenging because batteries of that group size are quite scarce — probably because not so many cars use them.
So, what do you do when you can't get a replacement battery of group size 58? Simply get an alternative.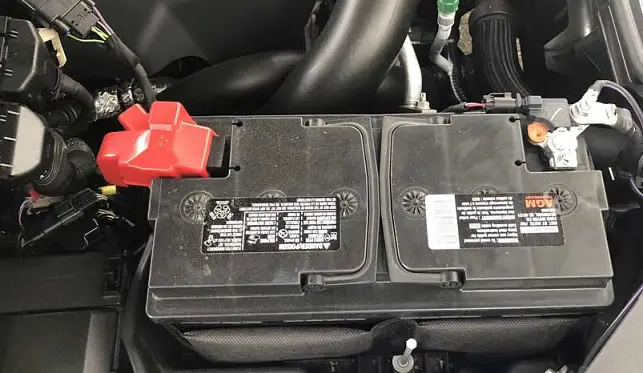 For each battery group size, there are other group sizes with only slight differences in dimensions. For example, a group 58 battery measures 255mm x 183mm x 177mm (L x W x H), while a group 47 battery measures 246mm x 175mm x 190mm. This means a group 47 battery, being only slightly less in length and width, can be used to replace a group 58 battery. So, the best alternatives to group 58 batteries are group 47 batteries.
In this article, we'd be looking at the best group 47 batteries.
Best Group 58 Battery Alternatives: Our Top 3 Picks
Group 47 batteries are more readily available on the market than group 58 batteries. But making the right choice from the tons of models available on the market can be a head-scratching experience.
So, to help you make a buying decision that you won't regret, we decided to put together this list and review of the best group 47 articles — carefully handpicked by our research team based on design, specs, durability, brand reputation, and consumer opinions.
1. ACDelco 47AGM
Amp Hour: 60 Ah
Cold Cranking Amps: 630 CCA
Cranking Amps: 750 CA
Dimension: 9.5 X 6.9 X 7.5 Inches
Positive Position: Right Hand
Reserve Capacity: 100 Minutes
Voltage: 12 V
Warranty: 36 Months
Weight: 39.5 lbs.
Our Review
AGM batteries have always been praised as the best pick over flooded types but getting one also means you would also have to spend almost twice as much as with conventional types. The ACDelco 47AGM Professional AGM is one AGM battery that would give you all the great performance while being considerably more affordable than most on the market.
ACDelco 47AGM is engineered to meet and exceed the expectations of enthusiasts in whatever vehicle it fits in. ACDelco has always been a top pick when it comes to automotive batteries and this offer from its inventory doesn't fail to impress. You get a battery with a high-density negative paste designed to improve its performance and increase its lifespan so you won't have to worry about replacing it every few years.
An extra perk is the calcium lead positive grid. This maximizes conductivity and allows for low resistance. This means your battery would charge faster than their flooded counterparts allowing you to get back to driving in no time. The enhanced silver calcium stamped alloy also boosts the battery's performance thanks to its superconductivity.
Bonus features include a Roust Envelope Separator with a puncture-resistant back. This feature is extremely handy as it helps to boost your battery life. It allows for increased acid circulation and prevents shorts so your battery remains cool all the time. Another feature that prevents damages that could shorten your battery life is the vent cap system.
While all these features are great, the most excellent feature in the ACDelco 47AGM is its AGM design. Absorbed Glass Matt is undeniably the best feature you will find in batteries these days. It makes the battery spill-proof so you won't have to worry about acid leaks or spills when you put it in use.
This is because rather than a liquid electrolyte, these battery types have their electrolytes permanently suspended. So while your car bounces up and down on the rough terrain, you won't have to worry about the vibration damaging your battery.
This design also makes the battery maintenance free. If you're used to flooded batteries, you would know its maintenance routine which includes checking the water levels every now and then to keep the battery going. With AGM batteries, there is no water level to check and your battery would last you about two or three times longer than flooded types. They also have a low self-discharge rate which further boosts their longevity.
The final perk to the ACDelco 47AGM is the warranty coverage. This battery offers a 36-month free replacement warranty which translates to 3 years of use. This also means that your battery would last long a lot longer than 3 years with proper maintenance. Note that while this warranty coverage is generous, it doesn't really cover everything that could go wrong with your battery.  Damages due to negligence, charging system failure, abuse, accident, improper installation, and several other events are not covered.
Still, the ACDelco 47AGM is a great pick if you're looking for a battery that is reliable, maintenance-free, and delivers top-notch performance.
Pros
36-month free replacement warranty
Maintenance-free design
Can be mounted in any position
Long-lasting
Cons
May require professional assistance to install
Strict warranty claim validation process
2. XS Power D4700
Amp Hour: 50
Max Amps: 2900A
Cranking Amps: 745
Length: 9.49 inches
Height: 7.48 inches
Width: 6.93 inches
Voltage: 12V
Warranty: 3 years warranty
Weight: 41.19 lbs
Our Review
XS Power D Series batteries are among the toughest battery models from XS Power. Among the top picks in the lineup is the XS Power D4700. This battery features a tough exterior delivering top-notch performance that provides the right power for many kinds of vehicles while lasting you more than just a few years of use.
The XS Power D4700 is feature-packed with a sturdy exterior design that will give you more years of use than any conventional battery you've ever owned. This battery uses AGM technology which ensures that the electrolyte and all the interior components are sealed. For you, this means you won't have to worry about spills and leaks. This is a great feature if you live in hot or cold areas or you drive around on rough roads.
In addition to that, the lack of a liquid electrolyte makes the battery extremely easy to maintain. With flooded batteries, you would have to check the water levels and probably add water to keep it fully operational. Things happen differently with the XS Power D4700 thanks to its AGM design. This exterior would provide protection against vibrations which ensure that the interior components are not damaged even with years of use.
The benefit of this battery over flooded types in cold weather is the lack of a liquid electrolyte. During the cold winter, you won't have to worry about the liquid freezing or your battery being unable to deliver the right burst of power to get your vehicle started. It also comes with high CCA and CA ratings that will bring your vehicle to life faster than many others.  In addition to that, the electrolyte suspension system prevents the battery from getting damaged due to shock or rough handling.
The XS Power D4700 battery is ideal for small-sized sedans. It isn't the lightest option, you will come across. It weighs just 41.2 pounds.  If this were to be a heavy-duty battery for trucks and large vehicles, its weight would be great, however, the XS Power D4700 is designed for mid-sized vehicles which makes it quite bulkily. Unfortunately, it doesn't come with a handle for easy installation and transportation. This is a big downside to the battery but it shouldn't be a deal-breaker.
Once it is installed in your car, everything should go on smoothly from there. Thanks to the AGM design, you can install this battery in almost any position according to your vehicle's space. It can be installed on the sides but never upside down. This isn't recommended if you want the battery to serve for many years to come.
Pros
Superior performance
Easy to install without professional assistance
Quick recharge
Not too heavy at 41.19 pounds
Cons
No handle for easy installation and transportation
Contains dangerous chemicals like lead and lead compounds
3. Delphi BU9047 MaxStart AGM
Cold Cranking Amps: 600 CCA
Dimension: 9.5 X 7.5 X 7 Inches
Reserve Capacity: 100 Minutes
Voltage: 12 V
Weight: 39 lbs.
Our Review
The Delphi BU9047 MaxStart AGM is one of the best picks for car owners with small vehicles and looking for a tough battery that would provide reliable performance in any weather. This battery comes with a nice set of features including a price point that's not too costly and would fit into most budget levels. Among its excellent features is its sturdy construction, reliable power delivery, and several convenience features that would come in handy.
On top of the battery is a tough carrying handle that helps with easy transportation and installation. This battery weighs about 38.5 pounds which might be too heavy for some people to move around. Thanks to the carrying handle, you shouldn't have a problem getting this battery wherever you want it.
Moving on to the construction, this battery features an AGM design. This tough design ensures that the battery will last almost twice as long as conventional batteries. It also delivers 20x the vibration resistance of conventional batteries which helps to extend its lifespan and allows it to maintain its excellent performance even with years of use.
The superior corrosion resistance sealed housing also comes with a manifold venting system that helps to prevent any event that would cause a chemical reaction thereby leading to shorts, damage, and eventually battery failure.
This battery has a Cold Cranking Amps (CCA) rating of 600 and Reserve Capacity (R.C) of 100 minutes. The extended CCA delivery means the battery would deliver more power to get your vehicle started quickly and run modern car electronics with ease. This includes car accessories that draw much power like heated seats and DVD players.
The AGM design is essentially the most impressive feature of this battery as it saves you a lot of time you would spend maintaining the battery by checking for leaks, checking water levels, and adding water. In addition, you should expect your battery to deliver just the same excellent performance in every season.
Pros
AGM design makes it maintenance-free
Features a handle for easy installation and transportation
Exceptional power delivery
20x the vibration resistance of flooded batteries
Cons
Battery lifespan reduces when used in extreme temperatures
Cost a little more than similar models from other brands