Group 75 batteries typically measure 230mm (L) x 179mm (W) x 136mm (H) and are designed either as starting or dual-purpose batteries. So, whether you need one for your car or truck, or for other applications such as pumps and winches, there's a suitable option for you.
While the starting batteries would typically suffice for cars and trucks, you might want to consider a dual-purpose model if your vehicle contains a number of add-ons that drain the battery continuously even when the engine is off.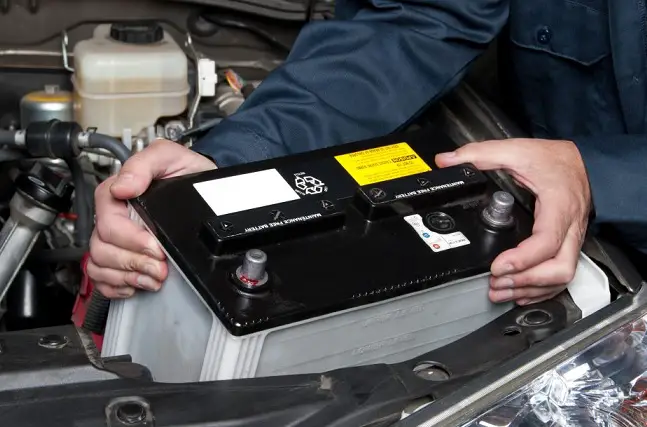 In this post, we'd be reviewing some of the best Group 75 batteries on the market.
Best Group 75 Batteries: Our Top 3 Picks
The market abounds with Group 75 batteries by several different brands and making the right choice can be hard if you're not in the know. Thankfully, however, we've made things easier for you.
In a bid to help you make a well-informed buying decision, our research team scoured the market and compared a number of Group 75 batteries in terms of performance, specs, durability, brand trust, and buyer reviews. And after cutting out many low performers, we were left with these 3 top contenders.
1. Optima Batteries 8022-091
Starting with a battery from one of the most popular car battery brands, the Optima 8022-091 is arguably the best Group 75 battery on the market right now. It delivers the strongest 5-second ignition power for a reliable start and an outstanding performance that outclasses traditional batteries.
Key specifications
Weight: 1 lbs.
Dimensions: 32 x 6.8 x 7.62 inches
Voltage: 12 volts
CCA: 720 amps
RC: 90 minutes
Better known as Optima Redtop battery, this car battery comes with a compact design that lets you mount it in a breeze even if it's your first time installing a car battery. The Spiral Cell AGM tech on the inside makes it up to 15 times more vibration resistance than other leading brands. It uses pure lead plates and as a result, the battery is more energy-dense for stronger starting power in any type of weather.
Because of its 100 percent spill-proof and leak-proof make, the Optima 8022-091 offers flexible mounting options that enable you to install the battery in the optimal configuration for your car. The company claims that this battery is able to withstand hard launches, extreme corners, and daily abuse – and it does these while maintaining a cleaner and better look.
As far as capabilities go, the Optima 8022-091 boasts a CCA rating of 720 amps for the first 5 seconds before it drops to the normal discharge rate. Remember, a high CCA rating means greater starting power, especially in the colder seasons or regions with icy climates. This battery will give you the confidence that your car will start every time.
In addition, its dual SAE and GM posts battery terminals allow for easy compatibility. It gets hooked up with almost any kind of plugs and the battery's terminals are a little too extra charged, so connectivity is not a problem. That's not all; Optima says this battery can deliver up to twice the lifespan of conventional batteries
The company backs this battery with a 36-month warranty, which begins from the date of purchase. Overall, Optima 8022-091  delivers excellent performance and durability, which is why you should consider buying it if you're done with your car's battery that takes forever to get started.
Pros
Precision control
High power delivery
Faster recharging
Cons
Warranty may not be honored
2. Optima batteries 8042-218
Better known as Optima Yellow Top Dual-purpose battery, the Optima 8042-218 offers an incredible performance that will exceed your expectations. It is particularly suitable for modern accessory-loaded vehicles, aftermarket audio systems, and trucks with winches as it provides ultimate starting and deep cycle power when you need it.
Key specifications
Weight: 8 lbs.
Dimensions: 32 x 6.8 x 7.62 inches
Voltage: 12 volts
CCA: 620 amperes
RC: 98 minutes
The first thing you'd probably notice about the Optima 8042-218 is its weight, which stands at 38 lbs. It's one of the lightest batteries for winch on the market and this indicates that you can move it around with ease.
Moving on to its design, this battery comes with the manufacturer's unique SpiralCell design, which features continuous lead plates, making it rugged enough to provide sufficient power even when the weather conditions are harsh. According to Optima, this technology gives its battery over 15 times more vibration resistance and an increased life cycle compared to traditional batteries.
Combine that with the AGM technology it is outfitted with and you begin to have an idea of how much resistance to vibrations the Optima 8042-218 can muster. In other words, you can mount in in any position without worrying since it is spill-proof and leak-proof.
Like every other battery from Optima, you will get a high burst of power even in bad weather from this model as it features a CCA rating of 620 amp and reserve capacity of 98 minutes for constant use. Unlike its rivals, the battery has a low discharge rate and it is capable of more than 300 discharge/recharge cycles.
The manufacturer stands behind this product with a 36-months warranty from the moment purchase so you can have peace of mind when you purchase this battery. In all, you can rely on this Optima Yellow Top battery to provide ultimate starting and deep cycle power. It might be a bit costly but it is worth the money.
Pros
Sealed perfectly to prevent leaks and spills
Fast recharging
Up to 3x longer life
Cons
3. Delphi BU9075DT
Delphi is a household when it comes to automotive batteries with decades of experience under the belt. Whether you're looking for a great value or a premium battery, the BU9075DT is one of the most powerful car batteries in the BCI Group 75 category to consider. It offers superior corrosion resistance and maximum power delivery that's more than enough to run all the electronics in today's cars.
Key specifications
Weight: 41 lbs.
Dimensions: 9 x 7.1 x 9.6 inches
Voltage: 12 volts
CCA: 680 amperes
RC: 100 minutes
In terms of design, the BU9075DT comes with the famous Absorbed Glass Mat (AGM) technology with a sealed lid. The outcome is that it is able to stand a lot of shocks and vibrations that typically affect conventional batteries. An extra perk that comes along with the tech is that this model is spill-proof and leak-proof, giving you the flexibility to install it in a variety of positions.
Furthermore, Delphi claims that the BU9075DT is loaded with some serious corrosion resistance and this is evidenced by the superior corrosion resistance sealed housing. Thus, you can expect this unit to perform optimally even in harsh conditions. Plus its build, which consists of optimized component compression, fortified posts, straps, and welds, indicates that this battery is going to serve you for a long time.
Furthermore, the battery also boasts a cold cranking amps rating of 680 amps alongside a reserve capacity of 100 minutes, which is sufficient to get you to any auto shop nearby. The BU9075DT's high CCA makes it ideal for use in cold regions as well as in situations that demand high power supply such as for operations of today's sophisticated electronics.
Going further, this batter boasts two times the cycle life of conventional batteries and twenty times the vibration resistance. And to top it all, it sells for roughly half the price of some popular batteries, so it's a good choice for people who want affordability and great performance. Overall, Delphi BU9075DT is a pocket-friendly choice that you can trust to perform optimally for a long time
Pros
Inexpensive
Good CCA for the price
Improved cycle life
Fast recharging periods
Cons
Better options available if you look beyond the price
Why buy Optima and Delphi batteries?
With a wide range of car batteries on the market, it's easy to think anyone is the right choice for your vehicle. However, a car battery is an investment and you want to make sure that whatever you settle for delivers a great performance and serves you for a long time with minimal issues.
Optima and Delphi both have a sterling reputation for manufacturing automotive batteries and investing in one of their tested and trusted products like the ones above will definitely change your experience for good. Just grab one of these masterpieces and make the most of it.